Pharmacist Revalidation
---
Our Free Staff CPD (Continuing Professional Development) Tool works for not just for regular pharmacist revalidation but for whole pharmacy team including:
Pharmacist Prescribers
Pre-registration Pharmacists
Superintendent Pharmacists
Technicians
Pharmacy Assistants
Nurses
Nurse Prescribers
Drivers
As a manager, you can check which PGDs have been allocated and which have been passed for each staff member.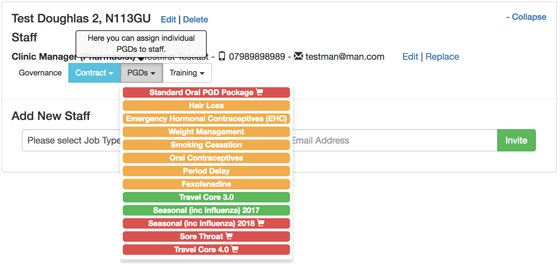 Similarly, for all staff, you can see which training courses have been allocated and which have been passed.

Pharmacy Staff Training Tracker
We have partnered with some of the industries leading training providers to offer a wide range of accredited courses which are accessible on any device, these include:
Fire Safety Warden - any organisation which employs more than 5 people must have a trained Fire Safety Warden on site.
Online Doctor Training - helps staff understand and get the most out of remote prescribing services.
Information Governance Course - helps with staff compliance with SOPs.
Pharmacist Error Reduction Course - show real-life examples of errors in pharmacy and how to minimise them, great to use with our clinical governance pharmacy error log!
Pharmacy Cross Platform Accreditation - CPD Certificate on how to use the different PMR systems in pharmacy.
Pre-registration Exam - video course, access to over 2,000 mock GPhC Exam questions.
Revenue Booster - teaches management staff about private services and commissioning.
Pharmacist Sign Language - CPD Certificate in BLS.
Pharmacist Revalidation Tools
It is important for pharmacists to use an external (other than the GPhC CPD Tool) CPD recording system, as after two years, due to EU data protection laws the GPhC will delete any GPHC CPD data entered the pharmacist entered on the mygphc website, i.e. all your documented learning will be destroyed. 
Our revalidation tool has been created to meet the new GPhC requirement for "good" planned (minimum of 2) and unplanned CPD. The tool can record what you want to learn and the relevance of this learning to your practice and then follows your learning by tracking how you utilised it in practice using a combination of our clinic governance logs and self-entry. After the entry has been created, the system lets you reflect at a later date where you can go back to your CPD entries and make any amendments and tick which of the 9 GPhC standards you are meeting before submission to the GPhC.
ePodium
Attend live learning events from providers on a range of topics. HubNet.io hosts professional learning sessions on clinical topics via video (some for credit) and webinars on how to use telemedicine services. And
HubNet.io
members can webcast live events that are open to other members.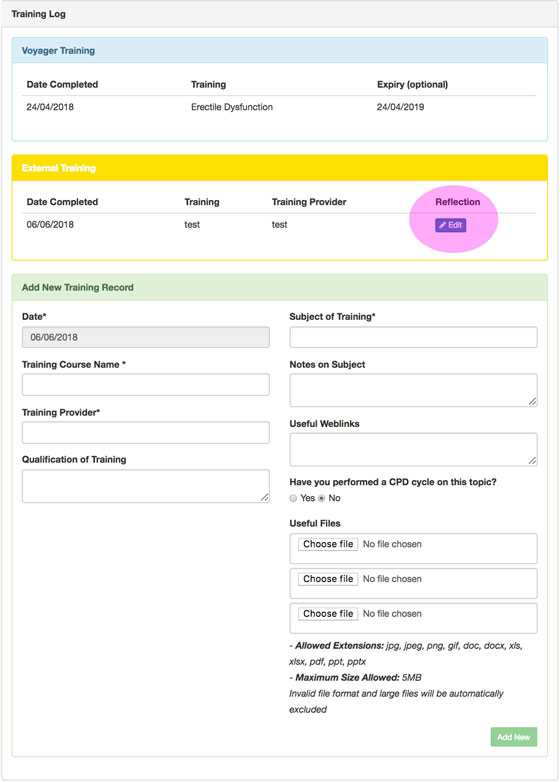 The Science.
It has been proven that peer review and meetings between professionals vastly increase the efficacy of CPD. In a recent Cochrane meta-analysis, it was found that:
"higher attendance at the meetings was associated with greater effects, that mixed interactive and didactic education was more effective than either alone, and that the effects were less for more complex behaviours and less serious outcomes."1, 2
The Pharmacist Revalidation tool is absolutely free all you need to do is sign up for a free HubNet.io account.
Why do Superintendents choose hubnet.io to manage their staff CPD?
One Simple Per User Price
No credits, or "one-off" charges and includes the Care Certificate
Turnover Protection
If you lose a member of staff, the replacement hire receives training at no extra cost
Quick and Simple
Add a new member of staff and assign them training within minutes
Automation
Refresher dates are automatically assigned
Tracking All in One Place
Track live training, observations, completion dates, due dates, certificates and more all in one simple place.
GPhC Revalidation Examples
We have created several mock GPhC revalidation examples for you to have a look at and potentially base some of your future entries upon.