Digital Standard Operating Procedures
---
Electronic Standard Operating Procedures (SOPs) are digital documents used by organisations to detail out the duties and responsibilities of staff members. SOPs ensure that staff know what to do in specific scenarios and give clarity as to what is expected of each employee in the course of their day to day work. Traditionally, SOPs were given to each employee as hardcopy, however, this often came with multiple issues:
A Story...

Mike works in an extremely busy pharmacy based in a GP's surgery. One day, at work, a new shop assistant was starting, and as the Superintendent, he had the duty to present her with 120 SOPs to read and sign. The first day she was absorbed, did little work and managed to read and sign 30 of them. The following week the same, the week after the same, on the fifth week Mike went to check whether she had signed all the documents, she hadn't. Mike marked each page with a post-it note to ensure she signed the documents. On the sixth week, Mike checked that she had at last correctly signed each document.
The next week she had to go back to college, and she was never seen again.
---
A Solution...
For over a decade, large organisations have implemented digital solutions to solve this problem. The majority create their own IT infrastructure which serves Standard Operating Procedures electronically via email to employees which are signed and then stored in the cloud. However, for small to medium-size businesses the cost involved in creating such as system often outweighs the potential benefits which might be gained. HubNet.io provides this solution at a much lower cost than a custom build, as we provide an off the shelf product which can be easily adapted to any business.

Using our HubNet.io Team Builder tool, any organisation send out their own SOPs or choose from our in-house 150+ templates. These digital SOPs can then be sent directly to different classes of staff via email and have them electronically signed. We also give you the option to use our template human resources templates as well so that you can easily contract new staff. Below is a picture of the "Responsible Person" files interface that we provide containing the digital SOPs. As you can see "Supply Specific Products" file is open, and the various online SOPs are displayed which can either be edited, deleted or sent to the staff with the "Read Again Button".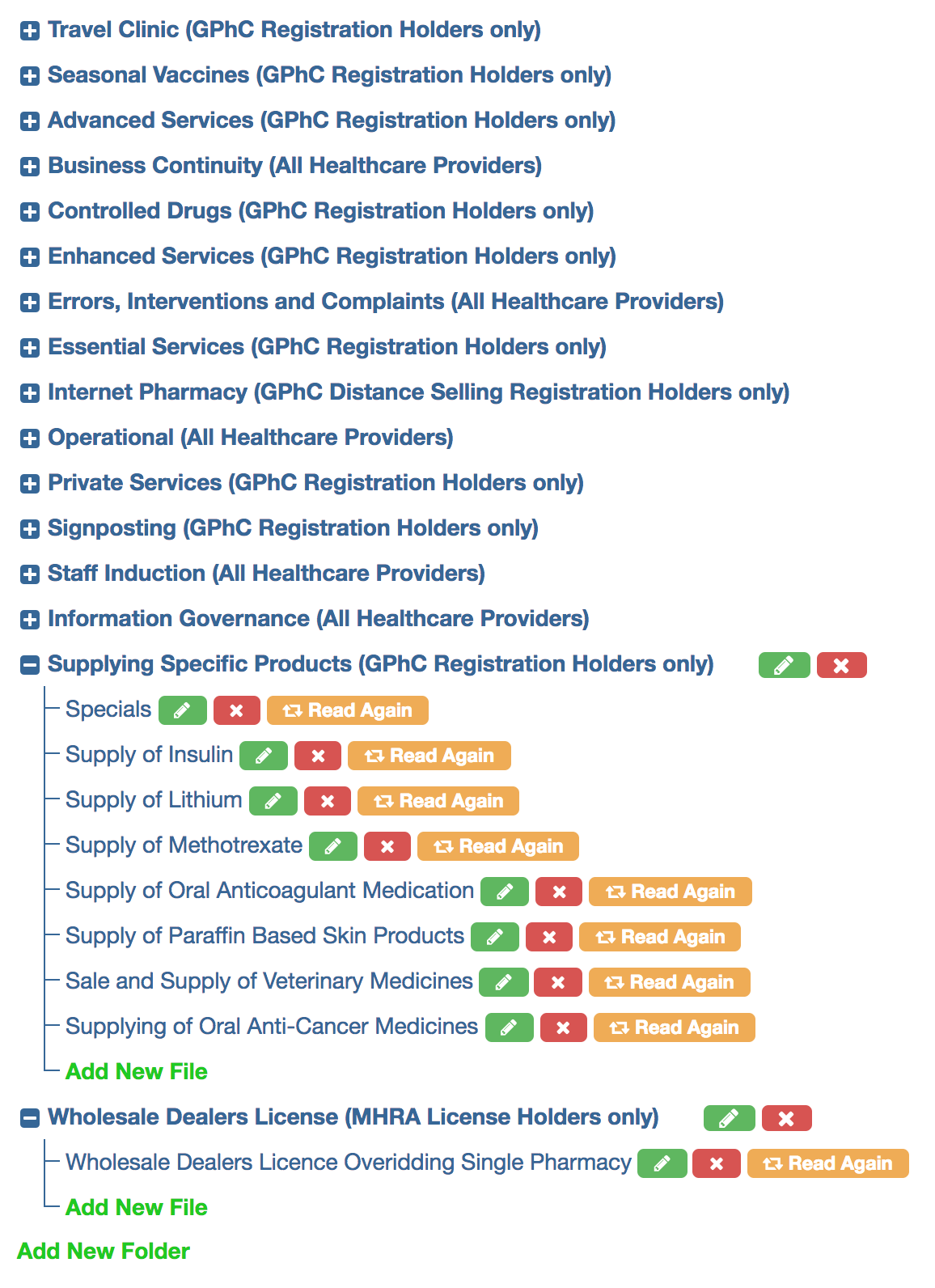 These digital SOPs can be advantageous when used in conjunction with our other online tools such as our Human Resources contracting tool. Having everything in one place can reduce stress and save a huge amount of time.
SOP Format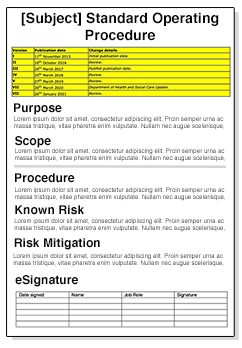 The Standard Operating Procedure format from our 150+ templates is shown to the left. All fields are customisable.
The subject / title - we recommend that this is short and simple to understand.
The purpose /scope - this section needs to set our why the SOP was created justifying to the user why it is needed.
The risk - risks need to be identified and addressed.
eSignature - we have created proprietary technology ensuring all signatures are legally binding.
---
The full list of template Standard Operating Procedures includes:
Care Quality Commission (CQC) Standard Operating Procedures:            
British Code of Advertising Standard Operating Procedure
Patient Disclaimer Standard Operating Procedure
Disability and the Equality Act 2010 Standard Operating Procedure  
Seeking Clients' Consent Standard Operating Procedure 
Complaints Procedure Standard Operating Procedure    
Whistle Blowing Policy      
Confidentiality Policy      
Clinical Governance Standard Operating Procedure     
Clinical Audit Standard Operating Procedure    
Safeguarding Policy      
Stress Management Standard Operating Procedure   
Sickness and Absence Standard Operating Procedure    
RIDDOR Standard Operating Procedure
Violent or abusive patients Standard Operating Procedure
Mental Capacity Standard Operating Procedure
Medicine Incident Reporting Policy
Medication Review Policy
Protocol for the Identification of Patients with Learning Disabilities
Electronic Transfer of Patient Data Policy
Medicines Safety Alerts Standard Operating Procedure
Disciplinary Policy
Disclosure and Barring Standard Operating Procedure
Computer Misuse Policy
Computer and Data Security Procedure
Caldicott Protocol
Business Continuity Plan Standard Operating Procedure
Repeat Prescription Rationalisation ('Tidy-Up') by Medicines Management Team in Primary Care Standard Operating Procedure
Pre-Agreed Practice Specific Medication Switches to the Health Board Preferred Generic Standard Operating Procedure
Updating Repeat Medication from Community Pharmacy Medication Use Review by Medicines Management Team in Primary Care      
Adding the Medication of a Newly Registered Patient onto the Repeat Prescription by Medicines Management Team in Primary Care      
Medicines Reconciliation from Hospital Outpatient Documentation by Medicines Management Team in Primary Care     
Medicines Reconciliation from a Hospital Discharge Notification by Medicines Management Team in Primary Care Standard Operating Procedure
Domiciliary Medication Adherence Assessment by Medicines Management Team in Primary Care      
Level 2 Medication Review (including repeat medication reauthorisation) by the Medicines Management Team in Primary Care     
Level 3 Medication Review (including repeat medication reauthorisation) by the Medicines Management Team in Primary Care
Memorandum of Understanding with the Medicines Management Team
Specials Standard Operating Procedure (for GPhC and MHRA registered organisations)    
Supply of Insulin Standard Operating Procedure   
Supply of Lithium Standard Operating Procedure 
Supply of Methotrexate Standard Operating Procedure 
Supply of Oral Anticoagulant Medication Standard Operating Procedure 
Supply of Paraffin Based Skin Products Standard Operating Procedure 
Sale and Supply of Veterinary Medicines Standard Operating Procedure 
Supplying of Oral Anti-Cancer Medicines Standard Operating Procedure 
Information Governance (for CQC, GPhC and MHRA registered organisations)        
Summary Care Records Standard Operating Procedure      
Staff Confidentiality Standard Operating Procedure       
Information Governance Policy      
Code of Conduct for Employees with Respect to Confidentiality      
Data Handling Standard Operating Procedure       
Mobile Computing Guidelines and Standard Operating Procedure      
Information Security Incident Management Standard Operating Procedure      
Access Control and Password Management Standard Operating Procedure       
Ensuring Staff Compliance with RA01 Terms Template SOP      
GDPR Privacy notice for employees workers and contractors UK      
Staff Induction (for CQC, GPhC and MHRA registered organisations)         
Locum Induction Standard Operating Procedure
Staff Induction Standard Operating Procedure
Signposting (GPhC registered organisations only)        
Signposting Standard Operating Procedure
Private Services (GPhC Registration Holders only)
Salbutamol Supply to Schools Standard Operating Procedure
Blood Diagnostics via Finger Prick Standard Operating Procedure
Dispensing Private Prescriptions Standard Operating Procedure 
Operational (for CQC, GPhC and MHRA registered organisations)      
Cleaning Standard Operating Procedure
Cold Chain Maintenance Standard Operating Procedure
Equipment Maintenance Standard Operating Procedure
Internet Pharmacy (GPhC Distance Selling Registration Holders only)        
Setting up an internet pharmacy in the UK Standard Operating Procedure  
Overarching Internet Pharmacy Standard Operating Procedure 
Dispatching an internet Order Standard Operating Procedure     
Final Checking an internet Order Standard Operating Procedure       
Distance selling Standard Operating Procedure   
Preparing an Internet Order Standard Operating Procedure   
Receiving and Internet Order Standard Operating Procedure   
Distance Selling Social Media Standard Operating Procedure     
Cold Chain Delivery Standard Operating Procedure 
Essential Services (GPhC registered organisations only)        
Accuracy Check by an Accredited Checking Technician Standard Operating Procedure     
Accuracy Checking Standard Operating Procedure   
Assembling and labelling prescriptions Standard Operating Procedure     
Chaperoning Standard Operating Procedure   
Date Checking Standard Operating Procedure   
Delivery of Medicines Standard Operating Procedure   
Dispensing Medicines with a Compliance Aid Standard Operating Procedure   
Dispensing of Prescriptions Standard Operating Procedure   
Disposal of Unwanted Medicines Standard Operating Procedure   
Electronic Prescription Service Release 2 Standard Operating Procedure   
Emergency Supply Standard Operating Procedure
End of Month Standard Operating Procedure
Owing Medication Supply Standard Operating Procedure
Prescription Collection Service Standard Operating Procedure   
Promotion of Healthy Lifestyle Standard Operating Procedure   
Receiving Stock into the Pharmacy Standard Operating Procedure   
Roles and Responsibilities of Pharmacy Staff Standard Operating Procedure   
Support For People With Disabilities (Disability Act 2010) Standard Operating Procedure   
Support for Self Care Standard Operating Procedure   
Uncollected Prescriptions Standard Operating Procedure   
Responsible Pharmacist Standard Operating Procedure   
Errors, Interventions and Complaints (for CQC, GPhC and MHRA registered organisations)      
Complaints Procedure Standard Operating Procedure   
Dealing with Dispensing Errors Standard Operating Procedure   
Interventions and Problem Solving Standard Operating Procedure   
Near Miss Audit Standard Operating Procedure   
Pharmacy Patient Safety Incident Report and Follow Up Standard Operating Procedure   
Preventing errors and recording near misses Standard Operating Procedure   
Enhanced Services (GPhC Registration Holders only)        
Blood Glucose Monitoring Standard Operating Procedure      
Blood Pressure Monitoring Standard Operating Procedure   
Cardiovascular Screening Standard Operating Procedure   
Chlamydia Testing Standard Operating Procedure 
Cholesterol Testing Standard Operating Procedure
Emergency Hormonal Contraception Standard Operating Procedure   
Hosiery Fitting Standard Operating Procedure
Minor Ailments Scheme Standard Operating Procedure   
Monitored Dose Systems Standard Operating Procedure   
Needle and Exchange Service Scheme Standard Operating Procedure   
Palliative Care Enhanced Service Standard Operating Procedure   
Pharmacy Urgent Repeat Medicine Service Standard Operating Procedure   
Smoking Cessation Standard Operating Procedure   
Controlled Drugs (GPhC and MHRA Registration Holders only)        
Balance Check and Record-Keeping Standard Operating Procedure   
Delivering Controlled Drugs Standard Operating Procedure   
Destruction of Controlled Drugs Standard Operating Procedure   
Dispensing Codeine And Dihydrocodeine Standard Operating Procedure   
Dispensing of Controlled Drugs Standard Operating Procedure   
Dispensing Methadone Standard Operating Procedure   
Extemporaneous preparation of methadone Standard Operating Procedure   
Instalment dispensing of Controlled Drugs Standard Operating Procedure   
Recording Concerns over CD management Standard Operating Procedure   
Security and Storage of Controlled Drugs Standard Operating Procedure
Supervised Controlled Drugs Administration Standard Operating Procedure   
Supply of Sativex Standard Operating Procedure   
Business Continuity (for CQC, GPhC and MHRA registered organisations)       
Operating in the Absence of a Responsible Pharmacist    
Pandemic Protocol Standard Operating Procedure   
Business Continuity Plan Standard Operating Procedure   
Advanced Services (GPhC registered organisations only)        
Appliance Use Reviews Standard Operating Procedure   
Medicine Use Reviews Standard Operating Procedure   
New Medicine Service Standard Operating Procedure   
Stoma Appliance Customisation Service Standard Operating Procedure   
DMIRs Standard Operating Procedure   
Seasonal Vaccines (GPhC and CQC registered organisations only)        
Infection Control Standard Operating Procedure   
Influenza Vaccination Standard Operating Procedure   
Needlestick Injuries and Contamination Standard Operating Procedure   
Travel Clinic (GPhC and CQC registered organisations only) 
Malaria Chemoprophylaxis Standard Operating Procedure   
MMR Vaccination Standard Operating Procedure   
Shingles Vaccination Standard Operating Procedure   
Travel Core Standard Operating Procedure   
Yellow Fever Centre Standard Operating Procedure
Wholesale Dealers License Standard Operating Procedure (for MHRA License Holders)        
Wholesale Dealers Licence Standard Operating Procedure