Controlled Drug Register Template
---
Controlled Drugs (CD) Register requirements are defined in UK law by the Medicines Act. We have created a CD register template to use free of charge based around this guidance, a picture of which can be seen below: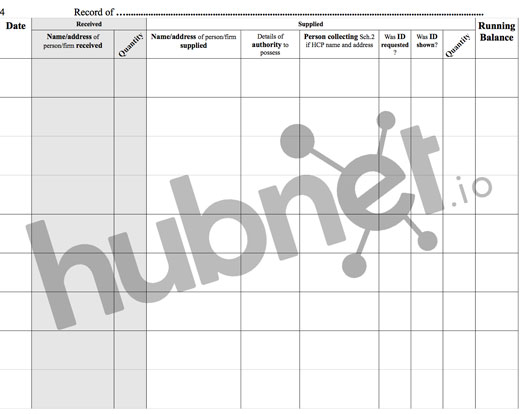 We have tried and tested this in our pilot pharmacy; you can download the PDF using the link below.
To purchase a low cost, 300-page copy, of a fully compliant CD register just click the links below:
---
Or use our unlimited entry:
---
Why use our Controlled Drugs Registers?
As you will see, all our registers meet the requirements set out in the Medicines Act, including the recording of:
(i) Date supply received;
(ii) name and address from whom received;
(iii) Quantity received.
(e) The headings in respect of entries made for drugs supplied are—
(i) Date supplied;
(ii) Name/Address of person or firm supplied;
(iii) Details of authority to possess— prescriber or licence holder's details;
(iv) Quantity supplied;
(v) Person collecting Schedule 2 controlled drug (patient/patient's rep/healthcare professional) and if healthcare professional, name and address;
(vi) Was proof of identity requested of patient/patient's rep (Yes/No);
(vii) Was proof of identity of the person collecting provided (Yes/No).